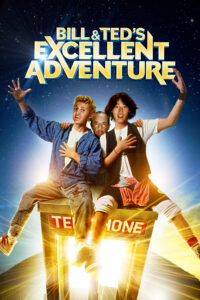 I'm a big fan of Bill and Ted's excellent adventure. I grew up watching the original movie frequently, and will always have a fondness for it. I recently purchased the trilogy on BluRay and watched all three films back-to-back.
While I feel that often sequels are money-grabs that try to copy the beats of a successful film in order to duplicate the former's success (I'm looking at you Ghost Buster's II), I feel that Bill & Ted successfully avoided this pitfall and produced sequels that are both unique and interesting. They also continue telling the over-arching story of how Bill and Ted save the world through music, making them cohesive.
In my estimation, the sequels are both successful because:
They are not rehashes of the first movie (Different beats)
They tell a new story while building on what came before (New plots)
They are tied together because they are all part of a larger theme (Saving the world through music)
Bill & Ted's Bogus Journey is a very different movie from Bill & Ted's Excellent Adventure. While the first is full of gags about time travel and a race to save their grades in their history class, the second does not focus on Bill and Ted time traveling at all. Instead the film focuses on them going to the afterlife, visiting heaven and hell, and becoming successful musicians. It uses new gags, has a new villains, and some pretty good special effects that I think still hold up pretty well.
Bill & Ted Face the Music pays homage to both previous films while not retreading them completely. It doesn't follow the same beats, but does revisit elements of the first two films. First, Billie and Theodora go on a time travel mission to gather famous musicians, much akin to Bill and Ted gathering historical figures in the first movie. Secondly, they revisits hell, and reunite the cast with the Grim Reaper. It also has a new scenario of Bill and Ted going forward in time and visiting themselves to try to find the ultimate song.
I liked that the third film was able to take the story and prophecy into a new direction without being disrespectful to the previous films. I thought they did a great job with casting. I felt like it really nailed the tone of the previous films while also being contemporary.
In summary, I think this is a great trilogy which each film being unique, enjoyable, and not a mere copy of it's predecessors.