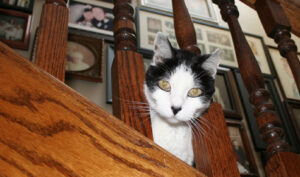 June 21, 1992 – December 12, 2008
I love my cat. Back in the summer of '92, we found a fat stray cat on our porch. We decided to keep her. She was very friendly, and thus we named her "
L.C.
," which is short for Love Cat. One day, we found out that she wasn't fat at all, she was just pregnant. She had four kittens, and they were very cute. We gave 3 of them away, and kept the one we called
Bluey
. L.C. was going to get "fixed" to make sure there were no more unexpected presents, but lo and behold, she was already pregnant again, and this time, she had a litter of 8 kittens.
Ying
was one of the 8, along side
Bert
, both of whom we kept. The cats over the years developed their very distinct and different personalities, as well as their habits of where to sleep and generally live. Ying stayed upstairs, where, incidentally, I also resided. Out of all the cats, she was the one with whom I was most familiar and most attached. She was very loving and enjoyed sitting on tummies and kneading them with her paws. She slept on my bed, and would always be where the people were (and where the
whippet
wasn't)
On December 12, 2008, my kitty, Ying, was put to sleep. She was 16 years old. She had a tumor in her abdomen, and was considered too old to be put through a treatment. Why am I telling you this? It's my way of remembering my cat, and preserving a memory of her. My whole website was named from her back when I first purchased the domain in '98. People probably don't understand what Yingster" means, but to me, it represents my cat who was always there during my life growing up. She will be missed, but not forgotten.